Private Guitar Lessons
Dust off that old guitar!
Have you always wanted to play the guitar? Whether your style is the blues, classical, rock, jazz or alternative, Jonathan Kasper specializes in making the basics fun and easy.
Within a few lessons you'll be playing
chords and melodies
, as well as basic
blues
and
rock-n-roll riffs
. As your playing improves, you'll learn intermediate
techniques
, such as:
fingerpicking
flatpicking
bending (notes) and
barring (chords)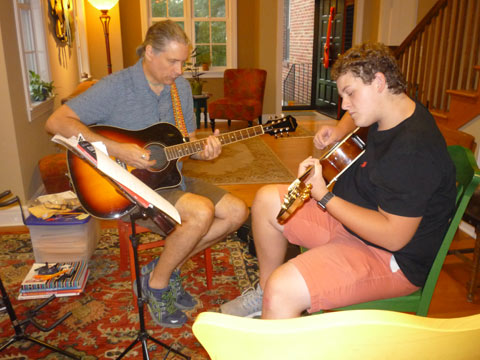 Jonathan's unique curriculum also includes basic music theory, creative improvisation, and songwriting. Students also learn how to read music, tablature and chord charts.
Let's get started!
We recommend that you fill out our easy online
Enrollment Application
as a first step. Or feel free to give us a call: 615-383-8516. Once we've received your completed application, we can schedule an initial lesson.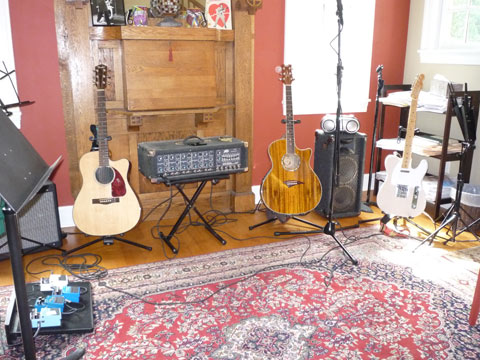 Guitar is fun!
Show More

Show Less
It takes time and patience to master an instrument. But when you're on the journey of musical discovery, that's where all the fun and creativity begin. Progress is made with regular practice outside of lessons. It is helpful to have parents or older siblings occasionally assist young students at home.
Students are accepted to Kaspermusic Conservatory based on their level of commitment to studying music. They will be expected to enroll in regular weekly lessons and remain in the studio for at least one full academic school year, 30 weeks, September through April. Additional lessons may be scheduled for the summer months.
Students choose either Private or Small Group Guitar Lessons*, depending on scheduling and other considerations. Make your selection when registering on our interactive Enrollment Application.
GROUP GUITAR LESSONS
Students are also welcome to take shared lessons with friends or family members. Small Group Guitar Lessons* are an exciting way for children and adults to learn an instrument in a supportive, self-paced environment. The curriculum is comprehensive and fun, everything from reading to rock-n-roll.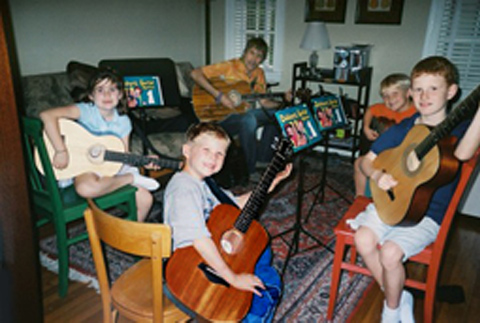 Show More

Show Less
Your child can begin guitar instruction as early as pre-K, though
starting in kindergarten
is more common. At our conservatory, we love planting seeds of musical excellence and watching our talented sprouts grow.
Children can succeed by learning the important basics:
Understanding rhythm
Reading music and tablature
Guitar techniques
Chords and Scales
Music Theory
Strumming and Singing Songs
Once you know the basics, you are usually ready to handle more advanced repertoire and begin exploring different styles and techniques of guitar playing:
Classical pieces
Blues licks
Rock-n-roll riffs
Flatpicking
Fingerpicking
Bending
Barring, etc.
Students purchase their own books
and
guitars
and bring them to each lesson
taken once a week
approximately 30/45 minutes in length
grouped according to age and level
payable by semester based on a 30-week academic year commitment
Class size is kept small to give maximum attention to each individual. New students will be integrated into standing classes whenever possible, to provide the greatest opportunity for peer learning.
All guitar students are invited to perform for friends and family in an informal Guitar Recital at the end of the school year (late April/early May).
To get started with lessons, please fill out our easy online Enrollment Application. See additional information on Small Group Lessons in the blue box below*.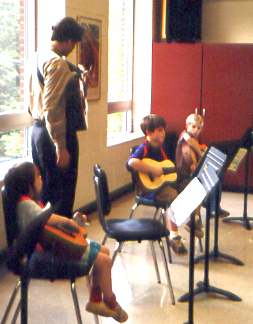 *Small Group vs. Private Lessons
Sometimes parents wonder how Small Group Lessons can be as effective or even more so than the private lessons they are familiar with from their own childhoods.
While one-on-one instruction is appropriate in certain situations, learning with friends in a small group can result in surprisingly fast progress. Children tend to excel with peer learning, and music lessons are no exception. You'll see improved social and cognitive skills like listening, demonstrating, cooperation and good behavior.
Healthy competition is fostered when students hear their peers accomplishing something they thought was impossible. Children learn to stay on task whether the spotlight is on them or not. They learn self-reliance and master practice skills throughout the lesson.
Students are regularly challenged to surpass expectations and are encouraged to prepare for and participate in informal performances and fun, year-end recitals for family and friends. Parents appreciate and children flourish with our low-pressure approach.
The keys to successful and rewarding music-making include: regular attendance, sufficient home practice, preparation of assignments, personal responsibility and mutual respect. Follow these steps consistently, and you and your child will reap the benefits of professional music training.
Testimonials
Ella has really enjoyed the camp! Thank you

- M. G.
Grace is having a great time and came home last night wanting to play more guitar!

- J. S.
Glad to see that Graham enjoys this and is actually learning something (thanks to you!). I'll need to be better about helping him stick to a practice schedule. Thanks again,

- R. I.
Thanks for a great year. Kiran really enjoyed it and… is keen to buy an electric guitar.

- M. T.
Thank you so much for working with Mack this year. He has improved so much and he loves guitar! You do a great job with him. He needs direction and consistent discipline and he repsonds VERY WELL to you! It is amazing to see his interest and focus as you…

- B.F.H.
Thank you for a wonderful year!

- K. H.
Thank you so much for teaching my son… the guitar. Will loved taking lessons and I enjoyed watching his growing appreciation for music. I enjoyed the recital and appreciate all the hard work you have done. Thank you so much for all you added to our lives.

- J. H. H.
Landon loved his first lesson. I was amazed how much he learned in a 30 minute lesson. :)

- M. C.
You are the best teacher ever and if I am doing well it is due to YOU!

- S. M. R.
Ethan would love to continue guitar lessons with you in the Fall. Thank you for all that you've done. I am amaized at the results, considering how little Ethan practiced at home! Thanks again,

- M. T.
Thanks so much for teaching Henry this past semester. He really enjoyed it.

- J. Mc.
Thanks for teaching Will. He loves your class.

- C. M.
After one short lesson, MacGregor jumped into the car and played the theme from Mission Impossible ALL THE WAY HOME! Thank you for opening the world of music to him - by teaching him the guitar!

- J. M.