Private Piano Lessons
Fun for kids age 5 to 95!
No matter your age or experience level, piano opens up a world of musical discovery. You can learn how to read music and how to play familiar melodies by ear with chord accompaniments. You'll be given a foundation in music theory and learn to play scales and chord progressions in every key. As you sharpen your skills, you can study a variety of musical styles, according to your interest. Budding composers are encouraged to experiment with improvisation and composition.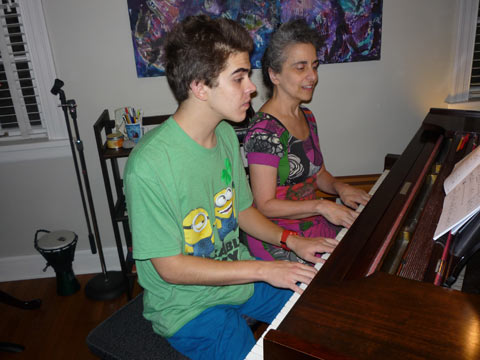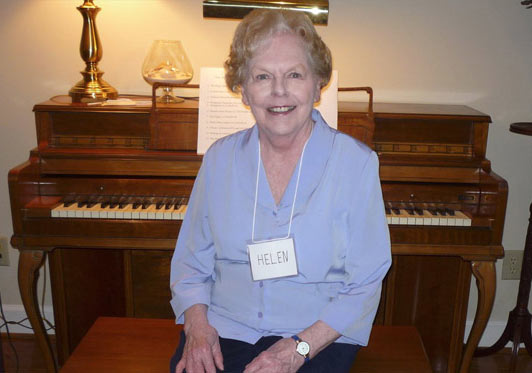 It's never too late for inspired learning!
Why should kids have all the fun? If you've always wanted to play the piano, now's a great time to get started. Taking piano lessons is a proven way to keep the mind active and the spirit alive.
Let's get started!
We recommend that you fill out our easy online Enrollment Application as a first step. Or feel free to give us a call: 615-383-8516. Once we've received your completed application, we can schedule an initial lesson.
Five thousand fingers!
Show More

Show Less
Have you ever seen the 1953 film The 5,000 Fingers of Dr. T? In this Dr. Seuss fable, a young boy is forced to "Practice, practice, practice!" by his stern piano teacher, Dr. Terwilliker, an eccentric composer, who uses a pendulum metronome and a conducting baton to make his heavy-handed point.
The boy has a dream which takes place in an electrified castle where Dr. Terwilliker keeps 500 children who must wiggle their "ten happy fingers" nonstop on a mile-long piano keyboard.

Piano doesn't need to test our nerves. It can be a joyful challenge.
Piano is fun!
Private Piano Lessons with Jocelyn Kasper are fun, and offer the opportunity to excel at your own pace. Progress is made with regular practice outside of lessons. It is helpful to have parents or older siblings occasionally assist young students at home with reading (but not playing).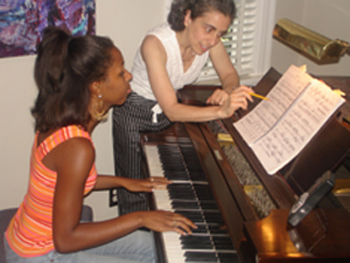 Show More

Show Less
Students are accepted to Kaspermusic Conservatory based on their level of commitment to studying music. They will be expected to enroll in regular weekly lessons and remain in the studio for at least one full academic school year, 30 weeks, September through April. Additional lessons may be scheduled for the summer months.
Students choose either Private of Small Group Piano Lessons*, depending on scheduling and other considerations. Make your selection when registering on our interactive Enrollment Application
GROUP PIANO LESSONS
Students are also welcome to take shared lessons with friends or family members. Small Group Piano Lessons* are an exciting way for children and adults to learn an instrument in a supportive, self-paced environment. With Ms. Kasper's three acoustic pianos and several electronic keyboards, students always have their own playing station.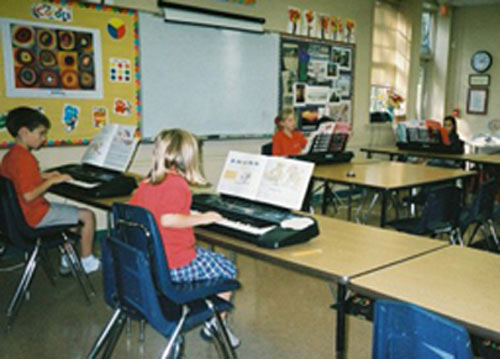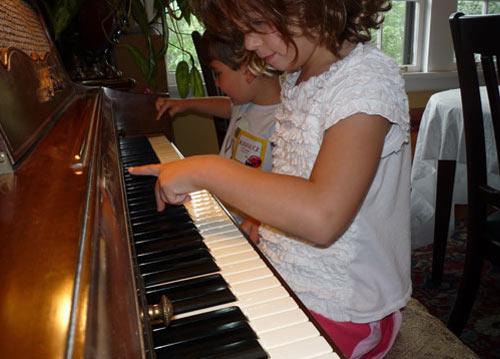 It's easy to join in group activities or work independently, while learning music alongside friends. Ms. Kasper says, "The cacophony is music to my ears!" And kids love it, too.
Show More

Show Less
In the group lesson format, students learn the important basics:
understanding rhythm
general study skills
good practice habits
proper hand technique
how to read music in the first year
lots of familiar music by ear
How old must a child be to start Piano Lessons?
Students in first grade (age 6) are usually ready to begin formal piano lessons. By then they will be at the developmental level to handle the required reading proficiency and the independent nature of home practice. They will also be better able to develop the fine motor skills needed for eye-hand coordination.
At our conservatory, we love planting seeds of musical excellence and watching our talented sprouts grow.
Show More

Show Less
Ms. Kasper has had success teaching kindergarten beginners at a primary level. If you feel your five-year-old child is ready for piano, great! Otherwise, Ms. Kasper suggests that they begin with Small Group Voice Lessons. Piano can be added or switched to later.
It is imperative that you have a reliable instrument for home practice. If your family is not ready to invest in an acoustic piano, an inexpensive electronic keyboard could be used for beginning students.
Students purchase their own books and bring them to each lesson. A keyboard is provided for each student every week.
taken once a week
approximately 30/45 minutes in length
grouped according to age and level
payable by semester based on a 30-week academic year commitment
Piano class size is kept small (2-4 students) to give maximum attention to each individual. New students will be integrated into standing classes whenever possible, to provide the greatest opportunity for peer learning.
All piano students are invited to perform for friends and family in an informal Piano Recital at the end of the school year (late April/early May).
To get started with lessons, please fill out our easy online Enrollment Application. See additional information on Small Group Lessons in the blue box below*.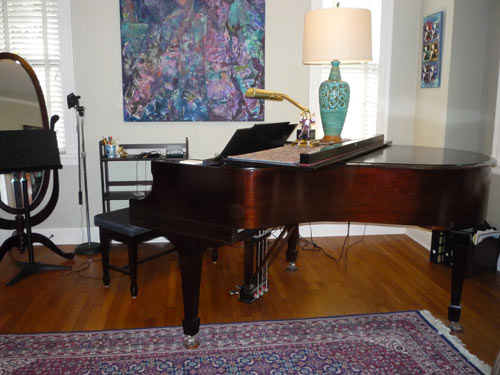 *Small Group vs. Private Lessons
Sometimes parents wonder how Small Group Lessons can be as effective or even more so than the private lessons they are familiar with from their own childhoods.
While one-on-one instruction is appropriate in certain situations, learning with friends in a small group can result in surprisingly fast progress. Children tend to excel with peer learning, and music lessons are no exception. You'll see improved social and cognitive skills like listening, demonstrating, cooperation and good behavior.
Healthy competition is fostered when students hear their peers accomplishing something they thought was impossible. Children learn to stay on task whether the spotlight is on them or not. They learn self-reliance and master practice skills throughout the lesson.
Students are regularly challenged to surpass expectations and are encouraged to prepare for and participate in informal performances and fun, year-end recitals for family and friends. Parents appreciate and children flourish with our low-pressure approach.
The keys to successful and rewarding music-making include: regular attendance, sufficient home practice, preparation of assignments, personal responsibility and mutual respect. Follow these steps consistently, and you and your child will reap the benefits of professional music training.
Testimonials
You have always been a constant in my life for the past 11 years. I am so grateful for all you have taught me, not only musically but in life as well. Taking lessons with you has helped me break out of my shell and become more confident in myself.

- R. M.
You are such a resource and inspiration to my being.

- H. S.
I got a book a while back: "A Classical Approach to Jazz Piano." I looked closely at it in the store, to be sure that I could deal with it, and thanks to my brief tenure with Jocelyn Kasper, I saw that I could.

- B. T.
I loved my lessons with Ms. Kasper. She always made me feel like a good piano player, even though I wasn't!

- A. J.
Thanks for your very clear explanations and instructions and your encouragement and great enthusiasm for life and MUSIC!

- H. S.