What's New?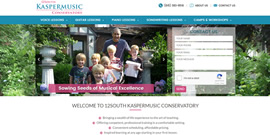 After 13 years of good luck, we've redone our website. See images of new, above, versus old, below.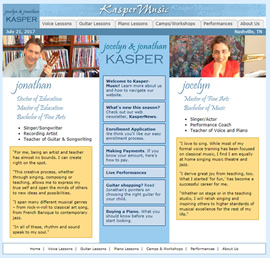 Along with our new website, we've fashioned a new logo. We are pleased to announce that we've added a word to our business name, 12South Kaspermusic Conservatory, to better reflect our location.
We've also retired the old spelling with a capital M in the middle, KasperMusic, in favor of the more streamlined Kaspermusic.

Jonathan Kasper Back In Recording Studio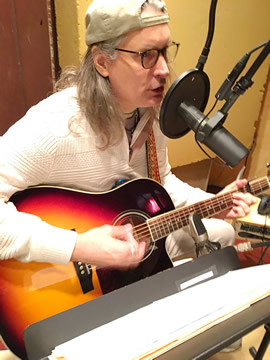 Jonathan Kasper knocks out 21 new original songs for his next two rock albums.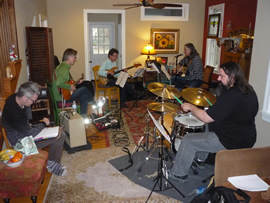 He held band rehearsals in his home guitar studio to be ready to record.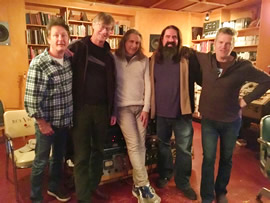 Pictured above are Doug Kahan, bass; Jerry Kimbrough, guitars; Jonathan, vocals & guitar; Wes Little, drums & percussion; and Brad Jones, producer at Alex the Great Recording Studios in Nashville, TN.
Stand by for purchase and release info later this year.

Kaspermusic Student Updates
| | |
| --- | --- |
| We're so proud of Caitrin Anderson, now majoring in Vocal Performance at Lee University in Cleveland, TN. | |

Caitrin became a Kaspermusic voice student just a year before required college auditions. She worked hard toward her dream, taking two lessons a week straight through two summers, and also studied guitar and songwriting. She made it!






Fiona starred in a pants-role (see letter jacket), playing Scott in Harpeth Hall's production of Dear Edwina Junior.

Rebecca M. and Charlotte both appeared in Franklin Road Academy's production of Working, The Musical. They also performed solos in the FRA annual Cocoa & Carols.

Rebecca A. had a supporting role in University School of Nashville's production of Urinetown, The Musical. Sorry no photos!

Ms. Kasper preps for a full house on one of several recital days.





Kaspermusic voice students performed one of two annual recitals. Pictured from left are Dann Childers, piano, and singers Diana, Helen, Fiona, Stephanie, Charlotte, Becca A., Becca M., Kiki, and Jonathan.

Kaspermusic guitar and piano students and their families ready for their spring recital as a major storm knocks out electricity. Thank goodness for cellphone flashlights!






Ms. Kasper with longtime Kaspermusic student Neha after her successful piano recital performance.

Kaspermusic Hosts NCMSConcerts
12South Kaspermusic Conservatory has partnered with the Nashville Chamber Music Seies to host house concerts.
The Kobayashi/Gray Duo, violinist, Laura Kobayashi, and pianist, Susan Keith Gray, performed music by female composers. They are pictured here with NCMS coordinators, Patrick Dunnevant and Michael Quintana, hosts Jocelyn and Jonathan Kasper, and foster dog Lexie.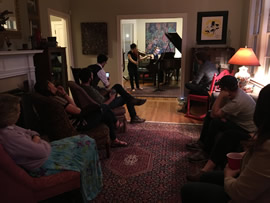 Kathryn Satoh and Elizabeth Newkirk comprise Bow & Hammer, a violin/piano duo from Chicago, IL. Our audience enjoyed a subdued salon environment, again with dog guests, to soak in the unusual music.
...And Sing-Along Parties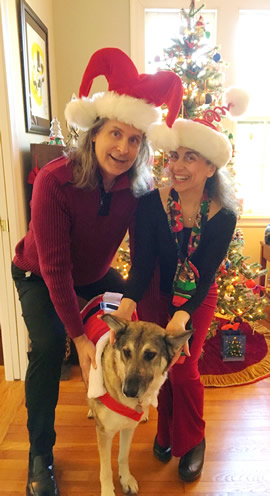 Alexis "Lexie" Bernadette Kasper has moved in as a permanent member of the family and co-hostess of our sing-along potluck holiday parties.


Musical Family Update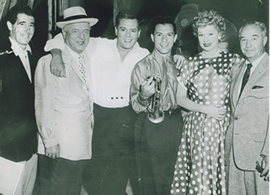 Many relatives and colleagues gathered in L.A. in April to celebrate the life of trumpeter Tony Terran, Ms. Kasper's cousin and last surviving member of the Desi Arnaz Orchestra. Read more about Tony here and here.
Jocelyn arrives in the city of angels. After a night of no sleep, she romped all over Disneyland for 12 more hours before finally collapsing in her family suite (background).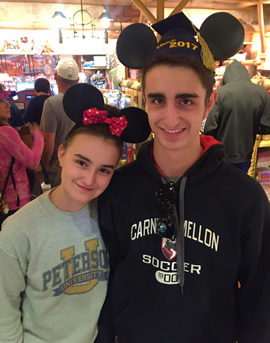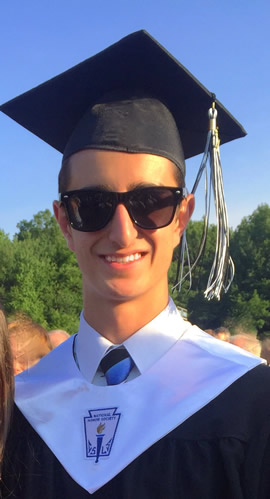 Reed graduates in shades and with honors from Rye Neck High School. He's headed to Carnegie Mellon University where he's already guaranteed a spot on the soccer team.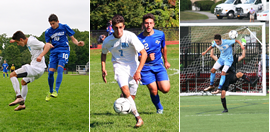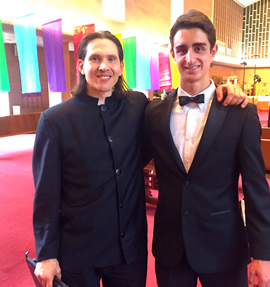 He won second place in the New Westchester Symphony Orchestra Concerto Competition. Pictured here with conductor Benjamin Niemczyk.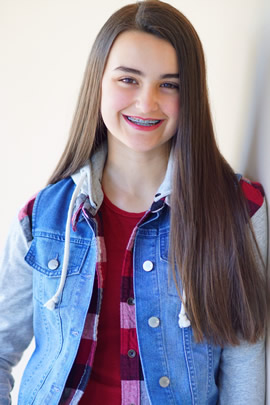 Here's Lily's professional headshot for her acting work. She's got a long résumé which includes several feature films: this year's The Book of Henry with Naomi Watts and Maddie Ziegler; the Will Smith 2016 Collateral Beauty; and the Jamie Foxx 2014 remake of Annie.

| | |
| --- | --- |
| | Here's Reed performing Beethoven's Concerto No. 3 in the winners' concert with the New Westchester Symphony Orchestra. |
| | Prepare to be amazed while Reed practices Liszt Paganini Etude No. 6 for his TEDx performance (also on YouTube). |
| | Here's an edited and annotated video of Reed's HS varsity soccer highlights. He plays CM/F position (Central Midfield/Forward), jersey #7. Make sure you catch the interview at the end. |
| | Watch Lily's ever growing acting reel here. |
| | Lily's voice is on Sprout TV as the blond yodeling girl Lena in the Alps. Warning: includes cute animated dogs yodeling! |
| | Here's Lily in live performance as the Mother Abbess singing "Climb Every Mountain" with full orchestra accompaniment. |
| | Lily in recital at Hoff-Barthelson Music School, playing Handel's Air. |
Testimonials
Ella has really enjoyed the camp! Thank you

- M. G.
Grace is having a great time and came home last night wanting to play more guitar!

- J. S.
You have always been a constant in my life for the past 11 years. I am so grateful for all you have taught me, not only musically but in life as well. Taking lessons with you has helped me break out of my shell and become more confident in myself.

- R. M.
[Joceyn Kasper] was such a great teacher and always so wonderfully positive! Never judged. I still remember things she taught me all those decades ago..these years I've found my voice again. Singing makes a person healthy and happy!

- J. R.
You are such a resource and inspiration to my being.

- H. S.
I got a book a while back: "A Classical Approach to Jazz Piano." I looked closely at it in the store, to be sure that I could deal with it, and thanks to my brief tenure with Jocelyn Kasper, I saw that I could.

- B. T.
I loved my lessons with Ms. Kasper. She always made me feel like a good piano player, even though I wasn't!

- A. J.
Thank you so much for teaching Jackson. He loved you as a teacher and he learned so much. He loves the instrument as a result and you were great with the kids! Thanks again,

- L. S.
Many thanks for your great teaching ability!! Carter very much enjoyed your class!

- A. C.
Glad to see that Graham enjoys this and is actually learning something (thanks to you!). I'll need to be better about helping him stick to a practice schedule. Thanks again,

- R. I.
Thanks for a great year. Kiran really enjoyed it and… is keen to buy an electric guitar.

- M. T.
Thank you so much for working with Mack this year. He has improved so much and he loves guitar! You do a great job with him. He needs direction and consistent discipline and he repsonds VERY WELL to you! It is amazing to see his interest and focus as you…

- B.F.H.
Thank you for a wonderful year!

- K. H.
Thank you so much for teaching my son… the guitar. Will loved taking lessons and I enjoyed watching his growing appreciation for music. I enjoyed the recital and appreciate all the hard work you have done. Thank you so much for all you added to our lives.

- J. H. H.
Landon loved his first lesson. I was amazed how much he learned in a 30 minute lesson. :)

- M. C.
You are the best teacher ever and if I am doing well it is due to YOU!

- S. M. R.
Ethan would love to continue guitar lessons with you in the Fall. Thank you for all that you've done. I am amaized at the results, considering how little Ethan practiced at home! Thanks again,

- M. T.
Thanks so much for teaching Henry this past semester. He really enjoyed it.

- J. Mc.
Thanks for a great lesson today… just when you think you have a piece down pat, there are so many more ways to improve it and make it ever more musical!

- D. N.
Thanks for your very clear explanations and instructions and your encouragement and great enthusiasm for life and MUSIC!

- H. S.
Thanks for teaching Will. He loves your class.

- C. M.
After one short lesson, MacGregor jumped into the car and played the theme from Mission Impossible ALL THE WAY HOME! Thank you for opening the world of music to him - by teaching him the guitar!

- J. M.
I am a former voice student of Jocelyn Kasper. I can say without a doubt she helped me to become a more confident singer. I wholehearted recommend her to anyone.

- T. W.
I sang some this morning for the first time since my last lesson and it was so relaxing, it is amazing what singing and music in general can do for one's psychology!

- D. N.
Jolie really loved music class and absolutely loves to sing.

- C. S. G.
I have enjoyed seeing olivia progress over the year. she's more confident, she sings from her diaphragm, proudly projecting! it's great to see her enthusiasm. i'm grateful for your instruction and guidance.

- A. N.
Your relationship with Fiona is very special. She admires you very much.

- N. M.
Thank you so much for all your support and understanding yesterday, it helped very much to just be able to talk to you about it.

- D. N.
I've learned so much from you, not only about singing and music, but about life! Thank you from the bottom of my heart!

- H. H.
Thank you for teaching me how to sing better! I've had so much fun during voice lessons.

- J. M.
Cannot express my gratitude at having you in my life!!

- G. F.
I enjoyed our summer lessons with Schubert. You opened up a treasure trove for me I never even knew existed.

- D. N.
Jocelyn, you've taught me so much. You're a great teacher and I'm going to miss you.

- M. W.
I asked him yesterday if he wanted to keep taking guitar and he said "yes mam' as long as I can I want to!!" That is very encouraging!

- B. F. H.
Thank you for never giving up on me! You are the best :-)

- A. S.
... a wonderful voice lesson ... I feel I am learning so much ... about what singing really means!

- D. N.
Thank you for your encouragement. I feel like I have a voice after your excellent, precise, professional instruction. You are a master ...

- S. M. R.