August, 2013
What's New? KasperMusic Opportunities for Families
KasperKids Celebrate
Musical Birthday Parties
You can create fun musical memories with a festive party hosted at KasperMusic Conservatory. We provide a lovely space, instruction and entertainment and then take care of clean-up. Call for reservations: 615-383-8516.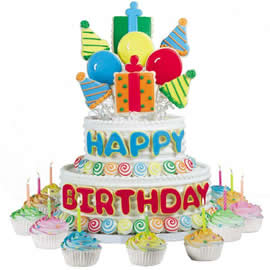 Parents' Friday Nights Out
First Friday of every month, parents drop off kids and enjoy a date night. Children receive three hours of musical instruction and a variety of fun activities based on our popular summer camp programs. Pizza and more provided.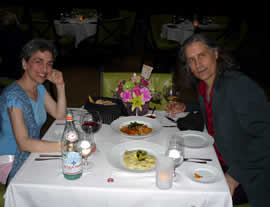 Family Jamily!
Get your whole family in harmony with the joy of music. This entertaining hour of fun musical jamming will bring out the untapped talents of Mom, Dad and the kids. Call for appointment: 615-383-8516.

How Do You Get To Carnegie Hall? Practice, Practice, Practice.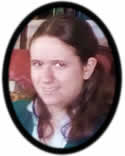 That's just what Soprano Jessica Schreiber has been doing since kindergarten. This longtime KasperMusic Voice Student was selected to perform in the American High School Honors Performance Series at Carnegie Hall.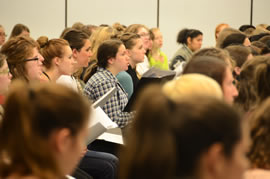 Jessica was one of approximately 175 singers. She was accepted as a freshman on her first audition. This is impressive, since she met seniors who only made it after four tries.

KasperMusic Students Make Rock Debut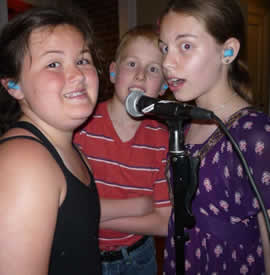 Fiona Muldowney, Patrick Donelson and Becca Ashworth sang awesome backup vocals on Jonathan Kasper's CD Release Concert May 31. Here they rehearse and, below, clown around making air-guitar faces.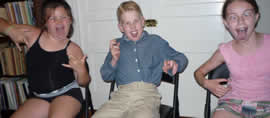 Jonathan Kasper, Recording Artist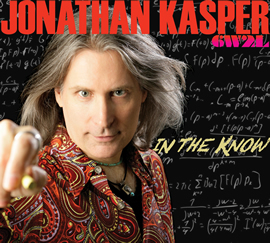 After a burst of creative musicianship, Kasper releases his first full-length melodic rock album In the Know. The Nashville Scene describes him as "a savvy songwriter who understands the subtleties of '60s rock."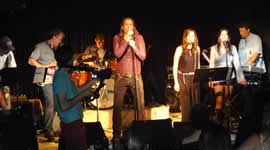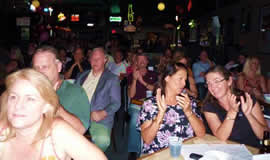 CD Release, contin'd.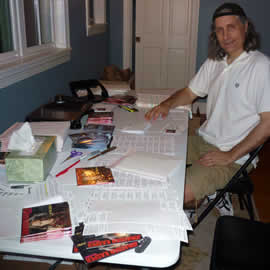 Jonathan takes a break while fulfilling rewards for his Kickstarter campaign. He raised over 211% of his target goal with 130 online supporters.
Listen to the 13-song sampler on his brand new website.
To order In the Know or Kasper's jazz-pop album Fragile Heart, contact us at info@JonathanKasper.com. Enjoy!

Holiday Sing-Along
Fa-la-la-la-la. The Kaspers hosted their annual holiday sing-along party. Everyone's on the guest list.

Enjoying Walt Disney World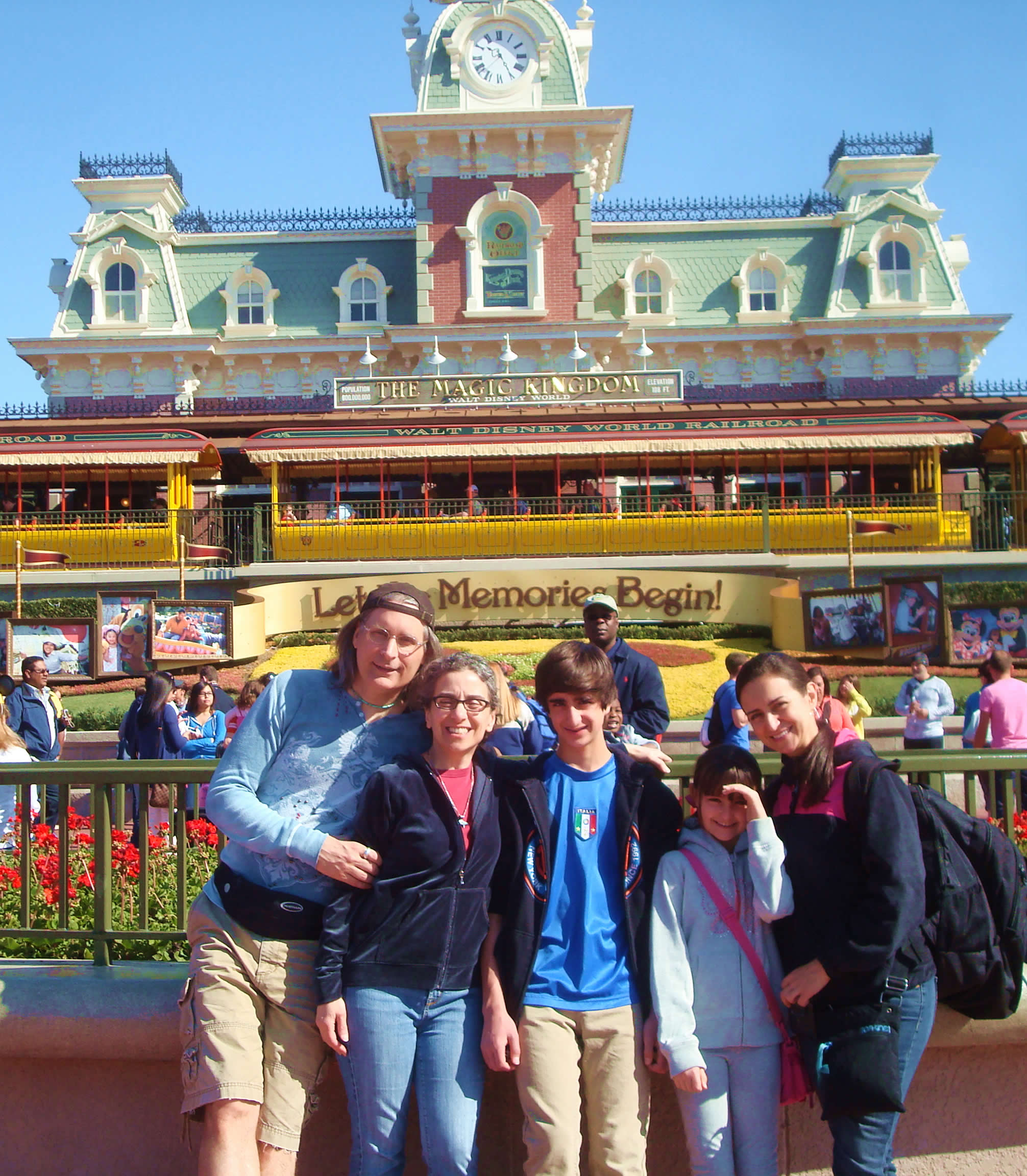 Here we are at The Magic Kingdom with Reed, Lily and their mom Laura in March. What a magical time!

Growing Up
Our nephew Reed (now 14) was the 2012 Grand Prix Winner of the Ars Viva Music Youth Concerto Competition. He performed Beethoven's Piano Concerto #1 in C Major live with an adult orchestra in the April winners' concert.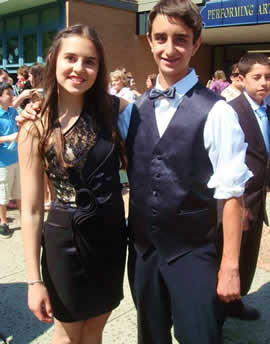 Reed celebrates middle school graduation with classmate Carly Rose Sonenclar who made it to the #2 spot on The X-Factor.
Little Girl Blue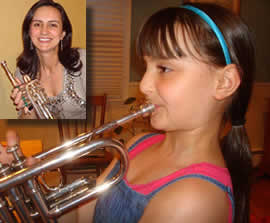 Lily (age 9) chose trumpet as her instrument in third grade, following in her mother's footsteps. Now she can toot her own horn.

| | |
| --- | --- |
| | Here's Reed in Beethoven rehearsal with the orchestra. |
| | Reed and Carly rehearse for their America's Got Talent Audition in his living room. |
| | Lily practicing "Für Elise" |

Jocelyn Kasper celebrates milestone birthday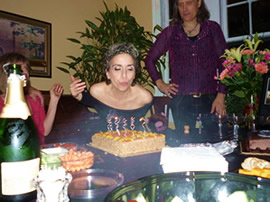 Thanks for the fantastic harmonies, everybody!

Tribute to Monty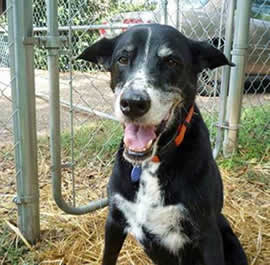 KasperMusic students and friends will remember our true-blue friend Monteagle "Monty" Kasper (1998-2012).He charmed us with his Chewbacca singing voice.

Testimonials
Ella has really enjoyed the camp! Thank you

- M. G.
Grace is having a great time and came home last night wanting to play more guitar!

- J. S.
You have always been a constant in my life for the past 11 years. I am so grateful for all you have taught me, not only musically but in life as well. Taking lessons with you has helped me break out of my shell and become more confident in myself.

- R. M.
[Joceyn Kasper] was such a great teacher and always so wonderfully positive! Never judged. I still remember things she taught me all those decades ago..these years I've found my voice again. Singing makes a person healthy and happy!

- J. R.
You are such a resource and inspiration to my being.

- H. S.
I got a book a while back: "A Classical Approach to Jazz Piano." I looked closely at it in the store, to be sure that I could deal with it, and thanks to my brief tenure with Jocelyn Kasper, I saw that I could.

- B. T.
I loved my lessons with Ms. Kasper. She always made me feel like a good piano player, even though I wasn't!

- A. J.
Thank you so much for teaching Jackson. He loved you as a teacher and he learned so much. He loves the instrument as a result and you were great with the kids! Thanks again,

- L. S.
Many thanks for your great teaching ability!! Carter very much enjoyed your class!

- A. C.
Glad to see that Graham enjoys this and is actually learning something (thanks to you!). I'll need to be better about helping him stick to a practice schedule. Thanks again,

- R. I.
Thanks for a great year. Kiran really enjoyed it and… is keen to buy an electric guitar.

- M. T.
Thank you so much for working with Mack this year. He has improved so much and he loves guitar! You do a great job with him. He needs direction and consistent discipline and he repsonds VERY WELL to you! It is amazing to see his interest and focus as you…

- B.F.H.
Thank you for a wonderful year!

- K. H.
Thank you so much for teaching my son… the guitar. Will loved taking lessons and I enjoyed watching his growing appreciation for music. I enjoyed the recital and appreciate all the hard work you have done. Thank you so much for all you added to our lives.

- J. H. H.
Landon loved his first lesson. I was amazed how much he learned in a 30 minute lesson. :)

- M. C.
You are the best teacher ever and if I am doing well it is due to YOU!

- S. M. R.
Ethan would love to continue guitar lessons with you in the Fall. Thank you for all that you've done. I am amaized at the results, considering how little Ethan practiced at home! Thanks again,

- M. T.
Thanks so much for teaching Henry this past semester. He really enjoyed it.

- J. Mc.
Thanks for a great lesson today… just when you think you have a piece down pat, there are so many more ways to improve it and make it ever more musical!

- D. N.
Thanks for your very clear explanations and instructions and your encouragement and great enthusiasm for life and MUSIC!

- H. S.
Thanks for teaching Will. He loves your class.

- C. M.
After one short lesson, MacGregor jumped into the car and played the theme from Mission Impossible ALL THE WAY HOME! Thank you for opening the world of music to him - by teaching him the guitar!

- J. M.
I am a former voice student of Jocelyn Kasper. I can say without a doubt she helped me to become a more confident singer. I wholehearted recommend her to anyone.

- T. W.
I sang some this morning for the first time since my last lesson and it was so relaxing, it is amazing what singing and music in general can do for one's psychology!

- D. N.
Jolie really loved music class and absolutely loves to sing.

- C. S. G.
I have enjoyed seeing olivia progress over the year. she's more confident, she sings from her diaphragm, proudly projecting! it's great to see her enthusiasm. i'm grateful for your instruction and guidance.

- A. N.
Your relationship with Fiona is very special. She admires you very much.

- N. M.
Thank you so much for all your support and understanding yesterday, it helped very much to just be able to talk to you about it.

- D. N.
I've learned so much from you, not only about singing and music, but about life! Thank you from the bottom of my heart!

- H. H.
Thank you for teaching me how to sing better! I've had so much fun during voice lessons.

- J. M.
Cannot express my gratitude at having you in my life!!

- G. F.
I enjoyed our summer lessons with Schubert. You opened up a treasure trove for me I never even knew existed.

- D. N.
Jocelyn, you've taught me so much. You're a great teacher and I'm going to miss you.

- M. W.
I asked him yesterday if he wanted to keep taking guitar and he said "yes mam' as long as I can I want to!!" That is very encouraging!

- B. F. H.
Thank you for never giving up on me! You are the best :-)

- A. S.
... a wonderful voice lesson ... I feel I am learning so much ... about what singing really means!

- D. N.
Thank you for your encouragement. I feel like I have a voice after your excellent, precise, professional instruction. You are a master ...

- S. M. R.