August, 2016
What's New? Ms. Kasper Celebrates 40 Years As An Educator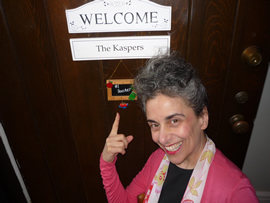 When undergrad Jocelyn Kasper started helping friends for fun in the practice rooms at Boston University, she had no idea it would lead to a lifelong successful career as an independent music educator.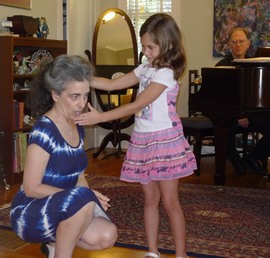 Here, teaching a Vocal Master Class in her home conservatory, she helps a young singer understand proper body alignment.

Kaspermusic Student of Note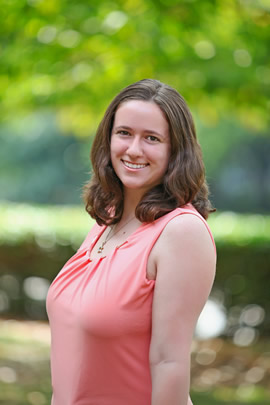 Longtime Kaspermusic student Jessica Schreiber completed 13 consecutive years of music study-voice and piano-with Jocelyn Kasper.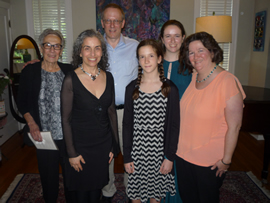 Her brother, David (guitar), and sister, Holly (voice and piano), were also Kaspermusic students. Many thanks to the loyal Schreiber family!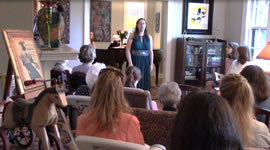 Jessica presented a solo voice recital at Kaspermusic Conservatory a week before graduating from University School of Nashville. She entered Princeton University in the fall.

Ambitious Singers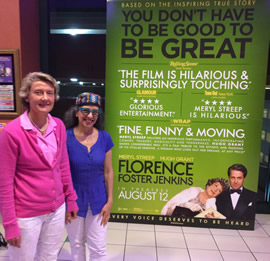 Kaspermusic goes to the movies! Jocelyn and her voice student Diana enjoyed watching (and listening to) the new Meryl Streep film Florence Foster Jenkins, which tells the story of a singing socialite in New York. The story is based on a real person.


Rebecca M. and Charlotte both appeared in Franklin Road Academy's production of Les Miserables.


Rebecca A. played opposite the lead in the Robertson County Players' production of Anne of Green Gables. Sorry no photos!




Summer camp students raise their voices and learn about finger numbers in the song "Ten Happy Little Fingers" from the film The 5,000 Fingers of Dr. T. KasperMusic student Jessica is on hand to assist while Ms. Kasper teaches in crutches.


KasperMusic piano students ready to rock the house on their spring recital.





Happy Halloween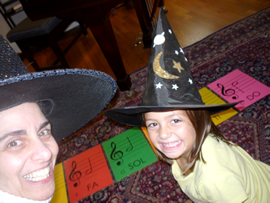 Olivia plays with voices of the season-witch, ghost, owl, black cat, werewolf-to have more fun with singing.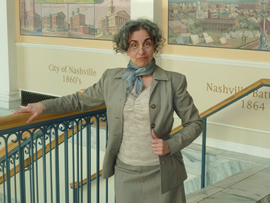 Jocelyn Kasper portrays Tennessee writer Will Allen Dromgoole (1860-1934), in Nashville Library's Halloween production of The Ghosts of Nashville. Waiting in the wings in full costume, below.

Holiday Sing-Along Parties Going Strong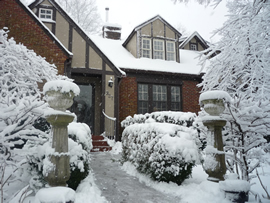 Nashville's a winter wonderland!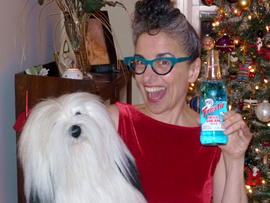 Lonely for canine companionship, the Kaspers adopt "Stuffie," a lovable Shih Tzu lookalike.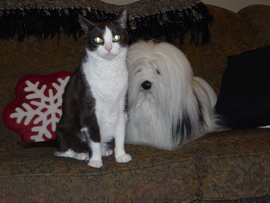 ...But Jazzmyn's not sure about her new K9 friend.

Musical Family Update
Reed was a finalist in the Yonkers Philharmonic Orchestra competition, but this year he was more interested in travelling all over the eastern seaboard for soccer tournaments.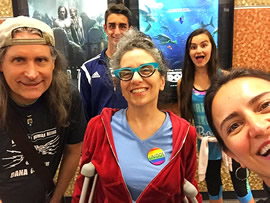 The Kaspers met up in W.Va. where they stopped for movies: the guys saw The Legend of Tarzan, and the girls went to Finding Dory. Ms. Kasper twisted her ankle when stepping on the dog's tennis ball.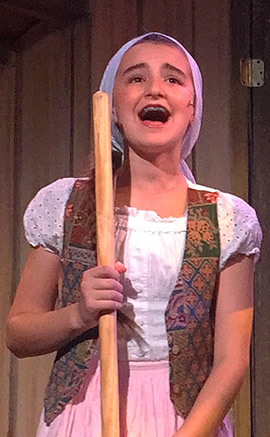 "Matchmaker, matchmaker, make me a match." Lily played Hodel, the second-oldest daughter who follows her heart to Siberia, in Fiddler on the Roof at The Westchester Sandbox Theatre.

| | |
| --- | --- |
| | Here's Reed in recital at Hoff-Barthelson Music School, playing the soloist part of Mendelssohn's Piano Concerto in G Minor with professional accompanist Sophia Zhou on piano transcription of the orchestra part. |
| | Another side of Reed, soccer highlights, playing CM/F (Central Midfield/Forward position), jersey #7. |
| | Here's Lily in live performance acting and singing "Far From the Home I Love." |
| | Another side of Lily as she clowns for the camera while practicing Mozart K545. |

Kaspers Foster And Pet-sit Dogs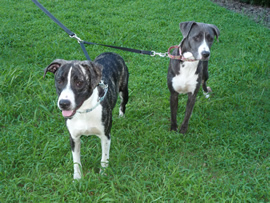 The Kaspers fostered Hansel and Gretel for a local rescue organization. These bonded siblings found a permanent loving home in Franklin, TN.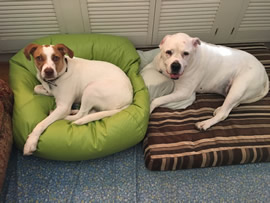 Jocelyn and Jonathan love pet-sitting for friends and neighbors. Here, Luna and Gracie become friends and enjoy overnight camp at KasperMusic Conservatory. Call us if you need a place to keep Fido or Snowball when you're on vacation: 615-383-8516.

Testimonials
Ella has really enjoyed the camp! Thank you

- M. G.
Grace is having a great time and came home last night wanting to play more guitar!

- J. S.
You have always been a constant in my life for the past 11 years. I am so grateful for all you have taught me, not only musically but in life as well. Taking lessons with you has helped me break out of my shell and become more confident in myself.

- R. M.
[Joceyn Kasper] was such a great teacher and always so wonderfully positive! Never judged. I still remember things she taught me all those decades ago..these years I've found my voice again. Singing makes a person healthy and happy!

- J. R.
You are such a resource and inspiration to my being.

- H. S.
I got a book a while back: "A Classical Approach to Jazz Piano." I looked closely at it in the store, to be sure that I could deal with it, and thanks to my brief tenure with Jocelyn Kasper, I saw that I could.

- B. T.
I loved my lessons with Ms. Kasper. She always made me feel like a good piano player, even though I wasn't!

- A. J.
Thank you so much for teaching Jackson. He loved you as a teacher and he learned so much. He loves the instrument as a result and you were great with the kids! Thanks again,

- L. S.
Many thanks for your great teaching ability!! Carter very much enjoyed your class!

- A. C.
Glad to see that Graham enjoys this and is actually learning something (thanks to you!). I'll need to be better about helping him stick to a practice schedule. Thanks again,

- R. I.
Thanks for a great year. Kiran really enjoyed it and… is keen to buy an electric guitar.

- M. T.
Thank you so much for working with Mack this year. He has improved so much and he loves guitar! You do a great job with him. He needs direction and consistent discipline and he repsonds VERY WELL to you! It is amazing to see his interest and focus as you…

- B.F.H.
Thank you for a wonderful year!

- K. H.
Thank you so much for teaching my son… the guitar. Will loved taking lessons and I enjoyed watching his growing appreciation for music. I enjoyed the recital and appreciate all the hard work you have done. Thank you so much for all you added to our lives.

- J. H. H.
Landon loved his first lesson. I was amazed how much he learned in a 30 minute lesson. :)

- M. C.
You are the best teacher ever and if I am doing well it is due to YOU!

- S. M. R.
Ethan would love to continue guitar lessons with you in the Fall. Thank you for all that you've done. I am amaized at the results, considering how little Ethan practiced at home! Thanks again,

- M. T.
Thanks so much for teaching Henry this past semester. He really enjoyed it.

- J. Mc.
Thanks for a great lesson today… just when you think you have a piece down pat, there are so many more ways to improve it and make it ever more musical!

- D. N.
Thanks for your very clear explanations and instructions and your encouragement and great enthusiasm for life and MUSIC!

- H. S.
Thanks for teaching Will. He loves your class.

- C. M.
After one short lesson, MacGregor jumped into the car and played the theme from Mission Impossible ALL THE WAY HOME! Thank you for opening the world of music to him - by teaching him the guitar!

- J. M.
I am a former voice student of Jocelyn Kasper. I can say without a doubt she helped me to become a more confident singer. I wholehearted recommend her to anyone.

- T. W.
I sang some this morning for the first time since my last lesson and it was so relaxing, it is amazing what singing and music in general can do for one's psychology!

- D. N.
Jolie really loved music class and absolutely loves to sing.

- C. S. G.
I have enjoyed seeing olivia progress over the year. she's more confident, she sings from her diaphragm, proudly projecting! it's great to see her enthusiasm. i'm grateful for your instruction and guidance.

- A. N.
Your relationship with Fiona is very special. She admires you very much.

- N. M.
Thank you so much for all your support and understanding yesterday, it helped very much to just be able to talk to you about it.

- D. N.
I've learned so much from you, not only about singing and music, but about life! Thank you from the bottom of my heart!

- H. H.
Thank you for teaching me how to sing better! I've had so much fun during voice lessons.

- J. M.
Cannot express my gratitude at having you in my life!!

- G. F.
I enjoyed our summer lessons with Schubert. You opened up a treasure trove for me I never even knew existed.

- D. N.
Jocelyn, you've taught me so much. You're a great teacher and I'm going to miss you.

- M. W.
I asked him yesterday if he wanted to keep taking guitar and he said "yes mam' as long as I can I want to!!" That is very encouraging!

- B. F. H.
Thank you for never giving up on me! You are the best :-)

- A. S.
... a wonderful voice lesson ... I feel I am learning so much ... about what singing really means!

- D. N.
Thank you for your encouragement. I feel like I have a voice after your excellent, precise, professional instruction. You are a master ...

- S. M. R.