August, 2007
What's New?
This website has been up for three years, and it still reads fresh. Updates and new links have been recently added throughout our 20-some web pages. Look for them and click to expand your knowledge, but don't forget to come back to KasperMusic.com!

Our niece and nephew, Lily and her brother Reed (ages 3 and 8, below),
are home again after visiting great-grandparents in Italy this summer.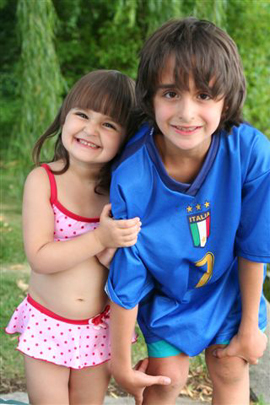 Every summer Ms. Kasper attends a professional seminar for Voice Teachers to augment her own education and teaching. This year she was fortunate to work with international lecturer and researcher Lisa Popeil, who operates a private studio in Los Angeles, specializing in popular vocal styles. Visit her website for great vocal tips and instructional products.

Live Performances Calendar – See what Jocelyn and Jonathan Kasper have been up to on stage! Students, come hear your teachers perform. New listings are added frequently. Make sure you're signed up on our email list.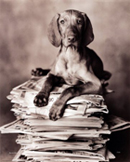 While a new edition of KasperNews only seems to appear once a year, website updates are made routinely. You may view our newsletter archives by selecting an edition from the blue sidebar menu under the About Us tab.
Students of Honorable Mention
People often ask us if we ever teach "famous" people or their children. The answer is YES! But over the years we've had so many non-famous, fabulous students who have made us proud. Here are just a few of our long-term regulars.
Triplets Carrie (3 years), David (5 years) and Joseph (2 years) were our first piano students in Nashville, September 1986. Dad Hal also studied piano, and Mom Janis joked at turning it into a family affair with vocal study, but hasn't yet!
Heather won the Miss Tennessee crown in 1998 and went on to compete nationally in Atlantic City in the Miss America Organization scholarship pageant. After graduating from Vanderbilt University, she went on to Law School in her native St. Louis where she met husband-to-be Peter. They now reside in North Carolina and have new baby twin boys, David and Braden. Heather's sister, Ashley, followed the family tradition and competed in MAO in 2006. Their talent was, of course, SINGING!
Margaret started Voice Lessons as a shy ninth grader. She went on to major in Voice at Illinois Wesleyan University where Ms. Kasper attended her senior recital. She is now studying opera as a graduate student at University of Wisconsin – Madison.
Emma began Guitar Lessons with Mr. Kasper in second grade and switched to Voice with Ms. Kasper in fourth grade; she studied through high school graduation. She overcame a partial hearing loss and has gone on to major in Music Theatre at Columbia College Chicago. She is also an expert dancer.
Brittany started Piano Lessons in kindergarten and remained in lessons throughout high school, exploring composition. She is now under full scholarship at UT-Knoxville studying international business. She spent last semester in France. She returns to the Kasper Home Music Studios every summer for lessons.
Rachel also started lessons in kindergarten and studied Voice and Piano through eighth grade. She has enjoyed many extra-curricular musical activities (such as handbells and leading the children's choir at church) and has been chosen as a vocal soloist in numerous performances.
Rebekah is beginning her senior year at Hillsboro High, her fifth year of Voice. She is preparing for an opera career and is visiting colleges this summer. She has wanted to pursue Voice Training ever since she was two, hearing all the singing coming from a neighboring house, the Kaspers'!
Ellen studied voice for three years, but that was in the last century! Nowadays she enjoys world travel and presenting solo shows of her oil paintings, while her granddaughters Skylar and Georgia take Voice, Guitar and Piano Lessons with the Kaspers.
Odessa studied voice for about six years. She is one of the founding members of the Princely Players.
Sisters Maryanne (8 years) and Amy (7 years) took piano lessons in all three Nashville locations of the Kasper Home Music Studios.
Mason was Mr. Kasper's youngest student, a very precocious age 3 making a grand entrance in cowboy boots and hat, his little guitar strapped on and ready to play. He continued with Guitar Lessons into Junior High School and now plays out with his own band. He has also performed with the Wooten Brothers.
Patrick studied Guitar throughout elementary and middle school and has been performing original music with his own band since high school. He is currently studying architecture in Manhattan.
Hal was a long-term adult student, focusing on Classical Guitar. He owns a song publishing company on Music Row.
Ellen, another long-term adult Guitar student, enjoyed lessons as something fun when she wasn't busy as a court reporter. She now has a career in paralegal.
Trey, a ninth grader who also plays piano, has taken Private Guitar Lessons for many years and each year continues to excel on our year-end student recitals.
Michael took Guitar as a youngster and still enjoys it. With a fantastically executed performance, he placed first in an AIR GUITAR contest held at the historic Belcourt Theatre this summer.
Our hats are off to all the many students and their siblings and parents who have taken Voice, Piano and Guitar Lessons throughout the years. We appreciate all of you very much. Thanks for being the greatest!
Testimonials
Ella has really enjoyed the camp! Thank you

- M. G.
Grace is having a great time and came home last night wanting to play more guitar!

- J. S.
You have always been a constant in my life for the past 11 years. I am so grateful for all you have taught me, not only musically but in life as well. Taking lessons with you has helped me break out of my shell and become more confident in myself.

- R. M.
[Joceyn Kasper] was such a great teacher and always so wonderfully positive! Never judged. I still remember things she taught me all those decades ago..these years I've found my voice again. Singing makes a person healthy and happy!

- J. R.
You are such a resource and inspiration to my being.

- H. S.
I got a book a while back: "A Classical Approach to Jazz Piano." I looked closely at it in the store, to be sure that I could deal with it, and thanks to my brief tenure with Jocelyn Kasper, I saw that I could.

- B. T.
I loved my lessons with Ms. Kasper. She always made me feel like a good piano player, even though I wasn't!

- A. J.
Thank you so much for teaching Jackson. He loved you as a teacher and he learned so much. He loves the instrument as a result and you were great with the kids! Thanks again,

- L. S.
Many thanks for your great teaching ability!! Carter very much enjoyed your class!

- A. C.
Glad to see that Graham enjoys this and is actually learning something (thanks to you!). I'll need to be better about helping him stick to a practice schedule. Thanks again,

- R. I.
Thanks for a great year. Kiran really enjoyed it and… is keen to buy an electric guitar.

- M. T.
Thank you so much for working with Mack this year. He has improved so much and he loves guitar! You do a great job with him. He needs direction and consistent discipline and he repsonds VERY WELL to you! It is amazing to see his interest and focus as you…

- B.F.H.
Thank you for a wonderful year!

- K. H.
Thank you so much for teaching my son… the guitar. Will loved taking lessons and I enjoyed watching his growing appreciation for music. I enjoyed the recital and appreciate all the hard work you have done. Thank you so much for all you added to our lives.

- J. H. H.
Landon loved his first lesson. I was amazed how much he learned in a 30 minute lesson. :)

- M. C.
You are the best teacher ever and if I am doing well it is due to YOU!

- S. M. R.
Ethan would love to continue guitar lessons with you in the Fall. Thank you for all that you've done. I am amaized at the results, considering how little Ethan practiced at home! Thanks again,

- M. T.
Thanks so much for teaching Henry this past semester. He really enjoyed it.

- J. Mc.
Thanks for a great lesson today… just when you think you have a piece down pat, there are so many more ways to improve it and make it ever more musical!

- D. N.
Thanks for your very clear explanations and instructions and your encouragement and great enthusiasm for life and MUSIC!

- H. S.
Thanks for teaching Will. He loves your class.

- C. M.
After one short lesson, MacGregor jumped into the car and played the theme from Mission Impossible ALL THE WAY HOME! Thank you for opening the world of music to him - by teaching him the guitar!

- J. M.
I am a former voice student of Jocelyn Kasper. I can say without a doubt she helped me to become a more confident singer. I wholehearted recommend her to anyone.

- T. W.
I sang some this morning for the first time since my last lesson and it was so relaxing, it is amazing what singing and music in general can do for one's psychology!

- D. N.
Jolie really loved music class and absolutely loves to sing.

- C. S. G.
I have enjoyed seeing olivia progress over the year. she's more confident, she sings from her diaphragm, proudly projecting! it's great to see her enthusiasm. i'm grateful for your instruction and guidance.

- A. N.
Your relationship with Fiona is very special. She admires you very much.

- N. M.
Thank you so much for all your support and understanding yesterday, it helped very much to just be able to talk to you about it.

- D. N.
I've learned so much from you, not only about singing and music, but about life! Thank you from the bottom of my heart!

- H. H.
Thank you for teaching me how to sing better! I've had so much fun during voice lessons.

- J. M.
Cannot express my gratitude at having you in my life!!

- G. F.
I enjoyed our summer lessons with Schubert. You opened up a treasure trove for me I never even knew existed.

- D. N.
Jocelyn, you've taught me so much. You're a great teacher and I'm going to miss you.

- M. W.
I asked him yesterday if he wanted to keep taking guitar and he said "yes mam' as long as I can I want to!!" That is very encouraging!

- B. F. H.
Thank you for never giving up on me! You are the best :-)

- A. S.
... a wonderful voice lesson ... I feel I am learning so much ... about what singing really means!

- D. N.
Thank you for your encouragement. I feel like I have a voice after your excellent, precise, professional instruction. You are a master ...

- S. M. R.